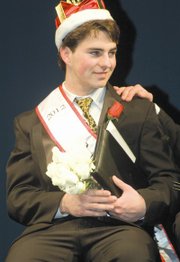 At the culmination of nearly three months of fundraising, 12 Mr. SHS candidates made it to the end. It was pageant day.
The 12 young men began the evening with a group dance routine. Then each contestant demonstrated through skits and song, "What I want to be when I grow up."
Local judges tallied scores based on the contestants' previous fundraising contributions to Children's Village at Memorial Hospital along with their performance in pageant categories such as talent, formal wear and hero presentations and an interview question.
After much deliberation the judges crowned Wilson Tramel 2012 Mr. SHS. Along with his crown, Tramel received a $500 scholarship to a college or technical school of his choice donated by the Memorial Foundation.
The contestants awarded Nick DeLeon the title of Mr. Congeniality. Along with that title, DeLeon received a $100 gift card to Wal-Mart.
Just before intermission the contestants gathered more than $1,100 from audience members in a "dash for cash." That was added to a total amount raised of nearly $6,500 over three months.