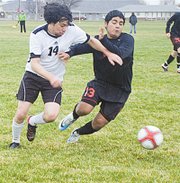 The Sunnyside Grizzly soccer team dominated everywhere but the scoreboard before falling to Kamikain 1-0 this past Saturday.
Twice in the first 20 minutes Sunnyside had golden chances to score, but came up short both times.
The first, in the 15th minute, came when Javier Contreras had a one-on-one opportunity in front of the Kamiakin goal, only for the shot to go wide right.
Again in the 20th minute Sunnyside was on the move. This time it was Abrahan Garcia taking a throw-in, passing the ball to himself and then booting the ball into the back of the Kamiakin net for an apparent goal.
Sunnyside Coach David Guevara said the score was waved off by the side judge on a call of offsides. Guevara said the official believed Garcia was trying to pass the ball to a forward teammate, when in actuality he passed it to himself.
The score remained 0-0 at the half.
In the second half the Braves went on the attack and scored the match's only goal in the 60th minute when Kamiakin's Cristian Tinajer scored on an assist by Colton Brockman.
"After those two goals didn't go in for us in the second half the hunger just wasn't there anymore," said Guevara. "We played a decent game, but got kind of sloppy at the end."
The victory was Kamiakin's first of the season.
"Some of our players may have overlooked them, looking ahead to league rival West Valley on Tuesday," Guevara said. "We didn't play to our potential."
It marked the second consecutive 1-0 CBBN loss for Sunnyside (2-3, 3-3-1).
With West Valley coming to town tomorrow, Tuesday, Guevara and co-coach Sergio Licona Sr. are encouraging their players to look forward instead of focusing on what-might-have-been.
"We're just reminding them that every game you have to be prepared to go," Guevara said. "It's a long season. The league is in a jumble and we need to show up every night."