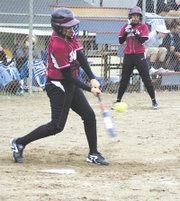 GRANDVIEW - Facing its second 2011 State tourney team in a week, the Lady Greyhound softball team was swept by visiting Othello this past Saturday.
Grandview dropped the first game 11-1 and fell to the Huskies in game two by a score of 14-0.
Othello took control from the start in the opener, scoring seven unearned runs in the first inning on three Lady Greyhound errors.
Grandview's only run of the game - of the day - came in the home half of the first frame. The rally started with Rikki Verduzco smacking a lead-off double to center field and Samanta Castaneda followed with an RBI single.
The Lady Greyhounds only mustered three hits from that point in the loss. Castaneda went 2-for-3 at the plate in the opener, while teammate Marissa Caballero stole a base.
In the nightcap, the Huskies did the damage with solid hitting, plating eight runs in the second inning.
Grandview was able to knick Othello pitching for three hits, including two by Van Tress, who also stole a base.
"Othello has a very high powered offense that always puts the ball in play," said Ramiro Gonzalez, Grandview head coach. "They hit two home runs and six doubles during the doubleheader."
While fielding errors hurt Grandview's chances on Saturday, Gonzalez did praise the effort by Castaneda and Caballero. "Marissa and Samanta made some tough defensive plays for us," he said.
Grandview Assistant Coach Mark Ware said the twin bill against Othello marked the second of three consecutive dates in a brutal CWAC league stretch for the Lady Greyhounds (2-4, 3-4).
"Those are the top three teams in our league," said Ware.
It all started with a pair of losses to defending district champ Selah on March 24. The third team in this stretch of key league contests is Ellensburg, a State runner-up in 2011, which will visit Grandview this coming Saturday.