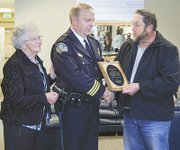 They laughed, they cried and by the time it was all said and done hundreds of Sunnyside citizens had given their police chief a fitting farewell.
That was the scene last Friday night at the Sunnyside Community Center, where a reception was held for Police Chief Ed Radder, who retired after 34 years of service in the city's police department.
"My dad's parents and kids are proud of him," Radder's daughter, Michelle, told a standing-room-only crowd during the reception's open-mic session that followed a video review of Radder's years here.
Added one of Radder's sisters, Marilyn, "The greatest gift you can give, to my brother, is service, to reach out to somebody."
The evening included laughter, such as when Sunnyside's Promise Board Chair Nate Bridges recalled how Radder coaxed him to get involved with the group by reminding him about a crow-shooting incident.
Then there was Police Explorer Alex Aguilar reminding Radder about the time he took the chief's cowboy hat out of his car. Aguilar duplicated the feat Friday night, presenting Radder - now riding into retirement - with the cowboy hat again.
The open-mic time was also an opportunity for Radder's colleagues in the police department to tip their hats to the retiring chief. "We're going to continue the things he's started," said Ollie Hernandez. "We'll miss him."
Overall, those in attendance Friday night focused on Radder's easy-going manner and his hours of volunteer service to the Sunnyside community.
"What I've always liked about him as our police chief is he does genuinely like everyone," Sister Mary Rita Rhode of Nuestra Casa said during an informal social time prior to the ceremony. "He assumes that people are good. I think he's wonderful."
Ed Prilucik was on the Sunnyside City Council when Radder was hired as chief. He recalled for the Daily Sun News how Radder over the years was not only a friend, but a neighbor. "He's a good man, he's done an exceptional job," said Prilucik.
Mark Baysinger is the executive director for Sunnyside's Promise, and he noted Radder doesn't just make an appearance when he's volunteering with the non-profit...he's not afraid to get his hands dirty. "Every event, he's been here," Baysinger said. "He doesn't just show up, but helps clean up."
Jeff Matson is a Port of Sunnyside commissioner, and he expressed appreciation for Radder's time in visiting with children and crossing guards at Sunnyside schools. Like so many others Friday, Matson also appreciated Radder's down-to-earth style. "He can be out throwing hay to his horses and he's the same guy you see here," Matson said.
"He's a good example for all the people. Fair and square," added long-time Sunnyside resident Rena Van Oostrum, visiting around a table prior to the ceremony. Her husband, Jake, quipped, "He's a great Dutchman, he never gives me a ticket!"
Many of the comments to and about Radder Friday night included appeals for him to stay around Sunnyside.
Radder, a Sunnyside's Promise board member, said he intends to do just that. "I want to spend time with the kids and grandkids, but I'll stay active in the community."