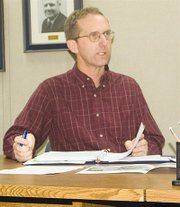 Can Sunnyside's old Carnation plant be salvaged?
If so, what would be the best uses for it in the future?
Stay tuned for the answers to those questions at a community presentation hosted by the Port of Sunnyside on Monday, April 16, from 6 to 8 p.m. at the Sunnyside Community Center.
The port is at the forefront on the Carnation plant issue because it is considering an offer from U.S. Bank to take over the foreclosed property at no charge.
The catch is that the property, located at 111 E. Lincoln Ave., is contaminated with petroleum and solvents.
With a $200,000 grant in hand the port contracted with Vancouver-based consultant Maul Foster Alongi to determine the cost effectiveness of cleaning up the property for future business use. Previous businesses at the site, besides Carnation, have included a series of wineries.
The bank foreclosed the property from WHC, Inc. and feels there isn't any market value to the property because of the contamination.
During the public presentation on April 16, Maul Foster Alongi will provide an overview of the Carnation plant, environmental concerns and review existing building conditions on the property.
In addition to a public comment period, the evening will include future options for developing and using the Carnation property.
Jed Crowther, the port's property, development and project manager, said the presentation will close with an opportunity for the public to indicate its preferences for future uses of the Carnation site.
In comments about the presentation during the Port of Sunnyside commissioners meeting yesterday, Monday, Crowther added that also on April 16 port staff will meet with officials from the city of Sunnyside and New Vision to discuss the Carnation plant.
Port of Sunnyside commissioners will hold their regular meeting at 5:15 p.m. on April 16, and reconvene at the community center at 6 p.m. for the Carnation presentation.