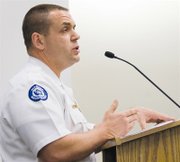 With seven items on the agenda, the Sunnyside City Council quickly got through its workshop meeting last night (Monday) in an hour's time.
At the request of Councilman Jason Raines, the meeting started with a resolution to support Autism Awareness Week in concert with the school district, which passed the same resolution at last week's school board meeting. After two short presentations by a representative from Children's Village in Yakima and a representative from the Sunnyside School District, the resolution passed unanimously.
The next item was an update on the work being done at the airport, presented by Port of Sunnyside official Jed Crowther. In addition to pointing out improvements already made at the airport, Crowther presented information about an automated weather observation system that would improve the use of the airport as well as benefit the local agricultural industry.
In order to get funding for the weather system, the best site at the airport still needs to be determined. Interim city manager Frank Sweet noted that it is still possible for the city to apply for funding in the current quarter if the information is turned in quickly. The council directed Sweet to work with port officials to get an application completed.
The council also heard a presentation from Fire Marshal Bill Harris on his activities since taking the position in September of 2010. Harris reported that inspections have increased and an education initiative has been making progress in the schools. Firefighters trained to inspect and install infant and child car seats have been at three public events. Harris also reported that there are six active arson investigations.
An anti-harrassment and nepotism policy was adopted with little discussion, as was an agreement with Huibregtse, Louman Associates, Inc. to continue working with the city on improvements. The council also granted an extension to Financial Consulting Solutions Group, Inc. for its work on an ambulance study, with no added funding provided because the delay was not the city's fault.
The last agenda item, presented by Councilman Don Vlieger, was regarding a collaborative partnership with the cities of Yakima and Toppenish for violence prevention and intervention services aimed at curbing gangs. The council gave the city manager authority to enter into the agreement, which may bring extra funding into Sunnyside that can be used in a plan developed and approved by the council.