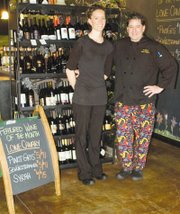 Nearly one year ago Bon Vino's Bistro and Bakery in Sunnyside began offering wine with the meals served in the popular, upscale restaurant, as well as wine for takeout.
Co-owner Roger Hazzard says it is Bon Vino's commitment to stock only quality local wines.
Last Monday, March 26, the bistro was awarded a Washington Wine Award for its contributions to and support of the Washington state wine industry.
The bistro owners pride themselves on offering select wines to distribute for sale. He says the company sells most of the wines by the bottle to take home.
As a rule, Bon Vino's always offers a white and red wine for glass pour.
"Some of these wines you can't get in the grocery store," he said.
In addition, they've begun to feature a monthly winery, offering three of the winery's selections for glass pour as well.
In just five years of opening the bistro, chef Hazzard says Bon Vino's has been honored with several awards. He says he never imagined this kind of success for the restaurant.