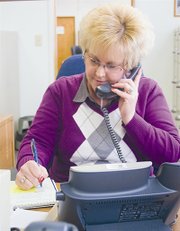 GRANDVIEW - When Jean Grubenhoff was just seven years old, she knew what she wanted to do with the rest of her life.
At the age of 7, she began helping with office work at her father's (Dr. J.R. Hale) optometrist office in Sunnyside.
"I was licking envelopes and licking stamps," she said. "I was also doing errands for the office girls there."
Grubenhoff says she learned good work ethics from her parents, and even at elementary-school age she knew that she wanted to be a secretary.
After graduating Sunnyside High School, she ventured to Trend Business College in Yakima, earning an executive administrative secretarial degree. From there, she worked at a local doctor's office just before entering a 14-year career as a Sunnyside High School secretary.
Grubenhoff has lived in the Sunnyside area all her life.
"I find no reason to leave," she added.
Nearly seven years ago, Grubenhoff began at Grandview High School as a secretary.
Just last month, she reached the pinnacle of her career as she was offered the job as executive secretary to Grandview School District Superintendent Kevin Chase.
Though she says she misses the students at the high school, this new career opportunity is one she's always dreamed of.
When she heard the news she said, "I couldn't believe it.
"It was one of the best days of my life," Grubenhoff added.
In addition, she said she will miss her friends and colleagues who worked alongside her at the high school.
Co-workers at Grandview High School sent Grubenhoff off in style, with a "congratulations" party and a cake decorated with her favorite animal, a pig.
In her off time, she says she also loves to spend time with her grandchildren.
"I just love them," she added.
Grubenhoff said the new job is the height of her career, she's reached the top of what she's been working for and wouldn't have it any other way.