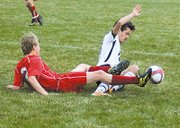 Abel Martinez assisted on three goals to spark the Sunnyside Grizzly soccer team to a 4-2 win at home yesterday over CBBN rival West Valley.
The rout was on early in Tuesday's match, as Sunnyside's Javier Contreras scored in the seventh minute on an assist by Jesus Marquez.
Martinez then went to work, assisting on three goals in a span of 15 minutes to help the Grizzlies pull away.
Martinez first assisted on a goal by Oswaldo Lopez in the 30th minute. Seven minutes later he fed Marquez for a goal to put Sunnyside up 3-0 at the half.
The Grizzlies got on the scoreboard one more time just four minutes into the second half, when Martinez dished to Lopez again to put Sunnyside up 4-0.
The Rams finally cracked the scoreboard in the 60th minute when Jesse Esquivel found the back of the Grizzly net on a penalty kick. Esquivel scored once more in the 76th minute.
Overall, though, West Valley was held in check as Sunnyside keeper Cristian Vargas recorded three saves.
Sunnyside's victorious goal outburst yesterday followed back-to-back 1-0 losses.
"We were able to refocus ourselves," Coach David Guevara said of overcoming the consecutive heart-breaking losses. "After we lost an emotional game against Pasco in the last minute I don't think we were prepared to play Kamiakin."
The difference on the pitch yesterday, Guevara noted, is that he and co-coach Sergio Licona Sr. reminded the players to be mentally prepared.
"It's not just physical preparation for a match," he said. "You have to be able to refocus your thoughts on the game instead of referee calls or other teams playing physical."
Guevara added that the Grizzlies' team chemistry is also coming into form. "We're trying to be positive out there," he said.
Sunnyside's new attitude comes just as the Grizzlies (3-3, 4-3-1) travel to Kennewick Saturday for a key league match.