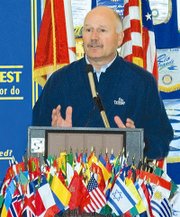 The Yakima Valley produces roughly 72 percent of all hops grown in the United States, and the United States produces roughly a quarter of all hops in the world.
Yakima Chief is a local company that sells many of the hops produced here all over the world, including to such unexpected markets as India and China, according to Steve Carpenter, Chief Executive Officer of Yakima Chief and speaker at the Noon Rotary Club meeting this past Monday.
Carpenter told club members that the top six brewers produce more than half the beer in the world, and Yakima Chief supplies hops to most of them.
Hops are used in beer-making to give flavor and aroma to the finished product. Breweries use different varieties of hops depending on what end result they hope to achieve.
To make their hops more attractive to breweries, Yakima Chief works to differentiate their product from that of their competitors. Carpenter pointed out that Yakima Chief is grower-owned, works to create sustainability and has also diversified their product.
Seven owner growers, mostly in the Yakima Valley, supply hops to the company, including some varieties that are unique to the growers. Some of those varieties are prized by craft beer producers.
The company has worked to go green, with a recycling program and efforts to reduce their carbon footprint, said Carpenter.
With hops being a seasonal product, the company has also diversified, testing out other products in processing downtime using their extractors. They've also experimented with looking for new uses for hops, which contain strong antibacterial properties.
One Rotarian commented on Carpenter's map of the main locations of Yakima Chief sales offices, with Brussels, Hong Kong and Rio de Janiero marked on a world map along with Sunnyside.
"It all goes through Sunnyside," said Carpenter. "We're a big player in the hops market."