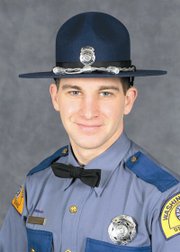 OLYMPIA - The 99th basic training class of the Washington State Patrol graduated last Friday, March 30, and included in their ranks was Sunnyside native Michael L. Christensen.
In a ceremony held at the Capitol Rotunda, 44 new Washington State Patrol troopers were sworn in by retired Washington State Supreme Court Justice Gerry L. Alexander, and presented their commission cards by Gov. Christine Gregoire and WSP Chief John R. Batiste, who welcomed them into an organization known and trusted by the citizens of Washington state.
Graduates completed 26 weeks of rigorous training at the State Patrol's academy and another eight weeks working the road with experienced troopers. The Washington State Patrol Academy only produces approximately three cadet classes every two years, which accounts for about 120 new troopers. Historically, only about 3 percent of the total number of applicants make the grade to become WSP troopers.
"Today we celebrate these fine men and women who successfully completed the tough and demanding training we required of them to be a trooper," said Batiste. "We wish them all well as they start their new challenging, but extremely rewarding careers, serving the people of our state as Washington state troopers."
Christensen has been assigned to patrol in District 3, Yakima.