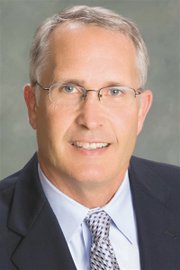 TOPPENISH - Kevin Bouchey announced yesterday that he will seek re-election to the Yakima County Board of commissioners.
Bouchey made the announcement Wednesday at Pioneer Park in Toppenish.
Bouchey was elected in 2008 to the District #2 position on the County Commission.
Among his first term accomplishments Bouchey in a press release noted efforts to coordinate county-wide efforts to deal with gangs and gang crime.
"We established a Yakima County Gang Commission in 2010," he said. "Local elected officials and leaders from 14 cities and towns and the Yakama Nation have come together to work collectively on suppression, intervention and prevention of gangs."
Bouchey said an outcome of that effort is the first juvenile gang court in the United States. The success of this court, he says, led the state of Washington to formally adopt the concept into law.
In addition to daily duties of the commission, Bouchey sees the need to continue initiatives that will have a long-term affect on Yakima County.
These include simplification of the county's development regulations, an economically sustainable plan for employee pay and benefits, an integrated basin-wide approach to meet future water needs and a locally led process to address groundwater quality concerns.
"I consider myself a common sense leader," said Bouchey. "I pledge to continue working hard on the important issues we face as a county."
Bouchey is a life-long resident of the Yakima Valley. He and his wife Renee have owned and operated SKD Farms, Inc. in Toppenish for 32 years.