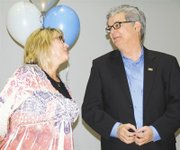 "I don't want to send him off, I want to keep him," said Anna Bullock, human resources specialist for the city of Sunnyside at the retirement reception for Mark Gervasi held last night (Wednesday) at the community center.
A good turnout showed up to see the outgoing city manager off, including many city employees, council members and others from the community.
"He's the reason I'm in Sunnyside," said Assistant Finance Director Amy Palmer. She presented Gervasi with a card and gift on behalf of city employees.
"He's a gentleman's gentleman," said city council member Theresa Hancock. "He brought a touch of grace to everything he did. Employees love him, and we're going to miss him a whole bunch."
Councilman Nick Paulakis echoed the sentiments.
"I remember early on, he was eager to come here," said Paulakis. "We hadn't even finished offering him the position and he was out of his seat saying 'Yes!'
"We will miss you," he said to Gervasi and his wife. "You have melted right into our community and become Sunnysiders."
When Mark Baysinger of Sunnyside's Promise came up to speak, Gervasi immediately attempted to talk about the success of the basketball program starting this week.
"This is how he is," laughed Baysinger. "He wants to divert attention back to what we're doing for the kids.
"There is always worry when a new city manager arrives that they won't understand what we are doing," continued Baysinger. "I was pleasantly surprised with Mark Gervasi. He immediately jumped on board. He gets it."
Lisa Fairbairn of Sunnyside's Promise remembered when Gervasi first arrived.
"His very first Christmas event, he showed up and helped out kids with projects," she said. "He truly cares about the community. He took time to be with children."
Chief Aaron Markham of the Fire Department also had good words for the retiring city manager.
"The fire department thanks you for your overwhelming support," Markham told Gervasi. He noted plans for a new fire house have been discussed for 11 years, "...but it was you that pushed it forward."
Local residents are voting now on whether to approve a $5.3 million bond to fund the construction of a new fire station.
For his part, Gervasi continued to show his enthusiasm for Sunnyside. He asked attendees to sustain the efforts he'd started and continue moving forward.
"This is a really good place," he said. "It's a fine community. I was happy to be working in a larger city. It was a short time, but it is time to move on."
Gervasi's accomplishments since arriving to work in Sunnyside in August 2010 include opening city hall for five days a week, the downtown revitalization project that's currently underway, the MGT study of the police department, more police on the streets and a new crime analyst, help for Sunnyside's Promise, the annexation of 248 acres to the west of town, a new contract with Yakima Waste Systems, land purchased for the upgrades to the fire department building and a project on the Monson property that Gervasi said he couldn't yet reveal.
"I feel good," said Gervasi of his retirement. "I'm going to spend more time with my boys and my wife. I'll get to read a bit."