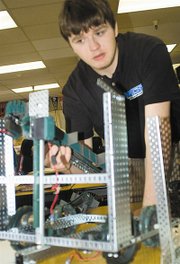 BELLEVUE - It was competition day and Sunnyside High School's Nathan Merry and Cody Stiltner had worked on their robot design for weeks. But the night before the competition they did a complete redesign.
"We were up in our hotel room until 4 a.m. redesigning the robot," said Merry.
In late March the two Sunnyside High School Technology Student Association (TSA) students headed off to Bellevue for a state competition.
The two participated at the Washington state TSA competition in vex robotics and flight endurance. They placed second overall in the vex robotic competition while Merry placed fourth in the flight endurance portion of the competition.
A vex robot is 18 cubic inches when it enters the the arena to compete. This particular competition required students to program robots to perform certain tasks while being timed.
Students also competed in a flight endurance contest. The flight portion included having students design a rubber band-powered air craft weighing less than 21 grams.
Placing second and fourth in the two contests left the two SHS students surprised.
"We didn't think we were going to place at all," Merry added.
Faculty advisor Spencer Martin says he's proud of how far the Sunnyside TSA club has come in just their second year of formation at the high school. The students also participated in the Zillah robotics competition earlier this school year and plan to continue with the club's after-school activities working with science and technology each week.