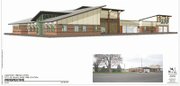 Sunnyside residents have received their ballots in the mail and have until April 17 to return them. Local firemen are hoping once the votes are tallied, they'll have a new and improved station to call home.
This past January the Sunnyside City Council voted to allow a $5.3 million bond to move forward to a citizen vote. Ballots have already been issued and must be returned no later than April 17.
If passed, the 20-year bond will allow the fire department to construct a new firehouse that will be 10,000 square feet larger than the current facility. Building plans include adding additional fire-engine bays, the purchase of a new or late model used fire engine, an additional building along with the modernization of the current building and more parking areas.
"Depending on what better suits our budget," says Fire Chief Aaron Markham of whether the department will purchase a new or used fire engine.
The city has already purchased nearly 10,000 square feet of land next to the current station, located at 518 S. Eighth St. An interfund loan in the amount of $250,000 was used to purchase the nearby vacant lot and office building. If the bond issue is approved part of the funds will be used to repay the loan.
Area taxpayers are currently paying 66¢ per $1,000 of assessed property value in previous debt. If the new bond is approved, taxpayers will pay on both the new and previous debts for just two years, nearly an estimated $1.07 per $1,000 of their assessed property value.
Over the subsequent 18 years, the previous debt will be paid off, and taxpayers can expect to pay approximately 70¢ per $1,000 of assessed property values.