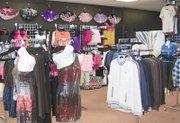 For the latest trends, fashion connoisseurs can now find clothing and accessories for women, men and especially children at Yunique Styles in Sunnyside.
According to co-owner Javier Arce, the idea started because his wife, Judy, had to travel to the Tri-Cities to find cute outfits for their daughter.
"She's wanted to open a shop to fill that gap for a couple of years now," said Arce. "But I was hesitant."
Initially conceived as a shop for children's clothing, the idea expanded into current fashions that otherwise cannot be found in Sunnyside.
"With the high cost of gas, we want to bring clothing here so people won't have to travel to get the latest styles," said Arce.
After eyeing the rental sign on the shop front at 2650 Yakima Valley Highway for awhile, she finally convinced him to open the shop. The two have been getting ready for their grand opening.
Arce said the shop already has accounts with various brand-name companies, and will offer a few items unique to Sunnyside, as well.
"We have a special gift wrapping machine," he said. "It puts the object in a balloon."
The store will offer the special wrapping for outside items as well as merchandise purchased in the store.
Judy Arce is looking forward to opening. In addition to the regular clothing, including tutus for children and the latest designs for women and men, the store will offer Easter dresses and prom dresses.
Arce also showed off a "diaper cake" designed to be given at baby showers. The cake is made of carefully rolled diapers gaily decorated with ribbon and other baby extras.
The shop also sells cosmetics from MicaBella. Arce said new merchandise will be coming in weekly and they will take custom orders for clothing they do not carry in stock. They also are open to suggestions for new items to carry.
The shop will hold its grand opening on Saturday, April 7, at noon. Regular hours after that will be from 10 a.m. to 7 p.m. every day of the week.