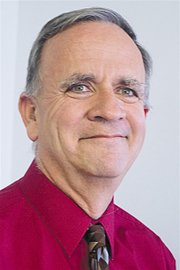 After wearing many hats for Sunnyside Community Hospital, Tom Lathen is moving to Texas to wear one hat with a hospital system there.
Lathen has been with the hospital here since 1993 working in community relations and physician recruitment.
April 27 is his last day at Sunnyside Community Hospital, though, as he will begin working with Scott and White Healthcare in Temple, Texas as a full-time physician recruiter.
Temple, a city of 70,000 people located 50 miles north of Austin, is the home base for Scott and White, which has 13,000 employees in 12 hospitals serving a regional population of about 200,000.
Taking the job wasn't an easy decision for Lathen, who lives in Sunnyside with wife Kathy, an employee with the Port of Sunnyside.
"I can't tell you how many times I've cried in the last week," he said. "I feel like I'm at my own wake, people have been saying such kind things to me."
Besides developing relationships at the hospital over nearly two decades, Lathen is a mainstay for the Sunnyside Daybreak Rotary and active in his church.
In 2011 the Sunnyside Chamber of Commerce named him as the city's business person of the year, both for his work as a physician recruiter and overseas with Rotaplast.
So, why the big move?
Lathen says one catalyst is his desire over the past five or six years to work more in physician recruitment than in marketing.
Lathen, whose background includes journalism, says he initially was drawn more to the marketing and PR aspect of his job at Sunnyside Community Hospital. He says that all changed when a former patient at the hospital told him that a doctor he recruited to town saved her life.
"That struck me as the coolest thing I had ever done," Lathen says of the realization that the doctors he recruits are saving lives in Sunnyside. "I can't think of a greater accomplishment than that."
That set in motion a desire to eventually find employment solely as a physician recruiter.
As for he and Kathy relocating to Texas, Lathen has a daughter in Dallas attending Southern Methodist University, about 150 miles from Temple. "Seeing her once a month instead of once a year will be nice," he smiled.
He also noted Scott and White are excited for him to start work there.
"I gave the hospital 30 days notice and they (Scott and White) want me to start on the 31st day," Lathen said. "That's a neat feeling."
Lathen said he began considering employment elsewhere more in earnest when longtime Sunnyside Community Hospital CEO Jon Smiley announced his retirement.
Though his job here was never in jeopardy, Lathen said the change in leadership when the hospital hires a new permanent CEO is a good time for him to transition to another position.
Lathen says he's looking forward to the challenge at Temple, the warmer climate and, of course, being closer to his daughter.
But he says the Sunnyside community will always remain close to his heart.
"Our first vacation next summer will be to come back here and visit," Lathen smiled.