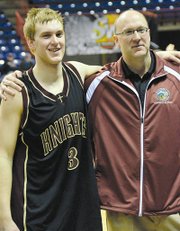 Whoever is chosen to step in and take the reins of the Sunnyside Christian High School boys basketball team has some mighty big shoes to fill.
With six State titles to his credit and an almost unbelievable overall record of 374-91, Dean Wagenaar is stepping away from what some might argue is the most successful boys basketball program ever in the Lower Yakima Valley.
Wagenaar's immediate plans are to remain working as the Sunnyside Christian High School principal, athletic director and part-time teacher. Yesterday, he confirmed that the private Christian school's board of directors has already been alerted to his "stepping aside" as the long-time head coach of the Knights hoop team.
He said a search for a quality candidate to serve as the new head coach has already begun. Wagenaar said personnel already employed by the Christian school, as well as existing members of the coaching staff will obviously be considered for the job if they express such a desire. He noted, however, that the position will also be opened up to other non-Christian school candidates.
"There will be a process established for people to apply. We anticipate that the interviews will start soon," Wagenaar said.
After serving 18 years as head coach, with an active streak of 14 consecutive appearances at the WIAA State basketball tournament, why step down now?
"I have to admit, it's been quite a run," Wagenaar said. "But I have two younger boys who need my attention. The dynamics of a family changes over time."
Wagenaar, a former player himself as a member of the Dordt College men's basketball team, started his coaching career at Sunnyside Christian High School in 1989, as the varsity assistant to Bob Rip. He served as Rip's assistant, and as the JV coach, for five years. During that span the SCHS boys hoop team won the school's first-ever State title, in 1992.
Two seasons later, in the winter of 1994, Wagenaar stepped in as head coach after Rip moved on to take a job in California. It would be another eight seasons before Sunnyside Christian would get its second taste of a State championship.
Once the Knights returned home from Spokane with that State title in 2002, Wagenaar's first as head coach, a pattern quickly developed. Wagenaar's teams became known as perennial contenders for the State crown.
His second State championship as head coach came just three years later, in 2005. Two seasons later, a five-year stretch from 2007 to 2011, Wagenaar's teams returned home from the 'B' State tournament with another four championship trophies.
In the 18 years Wagenaar has been calling the shots for the Sunnyside Christian boys basketball program, his teams on 12 different occasions have won at least 20 games during a season. Besides the current streak of having appeared in 14 consecutive State tournaments, in which the Knights have brought home placing trophies 11 times, Sunnyside Christian has won 13 league titles under Wagenaar's tutelage and 11 District championships.
His overall record as head coach is 374-91, an 80 percent winning margin, the same percentage as his postseason record (86-22). Of those 86 playoff victories, 23 came at the State tournament when it was staged in Spokane, another 14 wins at the State tourney when it was held at the Yakima Valley SunDome.
Any regrets in hanging up his clipboard now?
"It was time," said Wagenaar, quickly pointing out that his final seasons as head coach he was fortunate to have his eldest son playing for him. "To win two State titles together, with Trevor, it's very special.
"Over the years I've been extremely blessed. We've had some great kids come through the program...some great memories," he said.
"Honestly, it's been incredible."