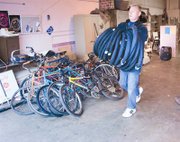 Sunnyside's Promise Lucky 7 Bike Shop program is in a wait-and-see mode while looking for a new home.
The program, which got its start in 2009, began its work as a youth mentorship program, helping area youngsters learn how to repair bicycles.
But at the end of March, Lucky 7 was homeless.
Program directors and volunteers have been looking for a new place to call home ever since.
For the past three years the program has excelled at their previous location, at Grace Brethren's garage building, and Sunnyside's Promise Executive Director Mark Baysinger says they are extremely thankful for the time they were allotted to be at the church's space.
For now, Lucky 7's supplies, bicycles and work benches will be stored in a small building, thanks to a generous offer of local business owner and City Councilwoman Theresa Hancock. She offered a space next to her local business for use. Though Lucky 7 is still looking for a permanent home, Baysinger says there might be a possibility to restart the program at that locale.
"We are very thankful for Theresa's offer," he added. "There may be an opportunity for Lucky 7 to continue its services there."
Baysinger says the size of space needs to be big enough to store parts, bicycles and enough space for area youths to work on the bikes, preferably at least a 30 by 50 foot space.
Last year, Baysinger said volunteers and program coordinators enlisted youths involved in the program, asking them what they would like added to the program's services.
"They mentioned learning how to do custom paint jobs," Baysinger said.
Lucky 7 is now equipped with an air compressor and other supplies to make that happen. They just need a place to do it.
He also says area youth that have gone through the program previously are coming back, and wanting to give back. He's even hearing that middle school students are asking when the program will start up again.
"I know this is a program that will be missed if we can't find a permanent home," he added.
Anyone who knows of a good location can call Baysinger at 643-4262.