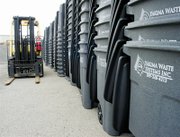 Sunnyside homeowners will begin receiving new garbage collection carts next Monday.
The 96-gallon and 48-gallon carts, 3,000 in all, will be distributed to all Sunnyside homes, starting Monday, April 9, through Friday, April 13.
The new garbage collection system will allow the city's refuse provider, Yakima Waste Systems Inc., to use a specially designed truck to pick up the carts, eliminating the lifting and unloading that is now being done by hand.
The general manager of Yakima Waste Systems, Aaron Rebmann, said crews will be delivering the new carts all of next week. Each cart, he said, will have a set of instructions attached to it, detailing what the homeowner's responsibilities will be.
Rebmann said the garbage collection days will remain the same for each household.
The larger, 96-gallon collection carts will be placed at homes that are currently three-can customers. Households presently only using one garbage can will be left the smaller, 48-gallon carts.
Local residents have two options available to them in deciding what to do with the garbage cans they are presently using. Rebmann said the cans can be kept by the homeowner to use for whatever purpose they choose. Or, when setting out their cans next week for garbage pick-up, they can attach a note asking Yakima Waste Systems personnel to dispose of the old garbage can.
Rebmann said any Sunnyside resident who needs more information about the new garbage collection system can contact Yakima Waste Systems at (509) 248-4213.