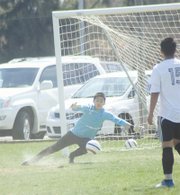 GRANDVIEW - It took 20 minutes before the ball made it past the crossbars this past Saturday in Grandview, but unfortunately that one goal was what made all the difference for Othello to defeat the Greyhounds.
Grandview Coach Anne Holden said her team dominated the match against the Huskies, having made seven attempts at scoring in the opening half.
However, Othello keeper Martel Salcedo denied the 'Hounds from securing a goal.
"The keeper absolutely denied us and did an incredible job," said Holden.
Othello's lone goal was made by midfielder Jorge Campos on the team's first attempt at the Grandview goal.
Overall, the Huskies made just five attempts on the goal.
"That's how lopsided it was...they made four attempts on target and four off target," said Holden.
She said the Greyhounds felt they had the upper hand "...especially in possessions."
But, Salcedo's defense of the goal made up the difference.
Grandview had 10 shots on goal.
"We had them on the ropes," said Holden, noting her team was unable to capitalize on the many opportunities to score.
"Othello is running the table on their end of the league...they are expected to go to State," she said, stating she is proud of how well her team competed against the Huskies Saturday.
Grandview keeper Elmer Campuzano was able to keep the ball from making it past the crossbars three times.
"That one goal caught us by surprise, it was totally unexpected," said Holden.
"I am feeling very good about where we're at," she said, stating the Greyhounds are very competitive.
Grandview (2-1, 3-6) will this coming Thursday host Ephrata.