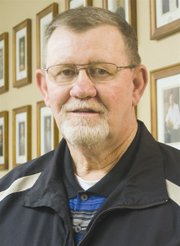 After more than three decades in public service, Ken Ott of Grandview is retiring.
Ott, SVID's assistant manager of operations for the past seven-and-a-half years, has worked in public service for 33 years.
His previous experience includes serving as Sunnyside's public works superintendent and later as the city's public works director.
Ott's career began in Mabton, where he was a maintenance crew member, a public works superintendent and, later, city administrator.
At SVID, Ott was responsible for operation and maintenance of irrigation and drainage facilities covering about 95,000 acres. He supervised 50 employees and during his tenure at SVID Ott was part of an effort that led to about $75 million in conservation improvements.
"His commitment to service is unparalleled and his impact will be felt for years to come," said Jim Trull, SVID manager.
That impact was in evidence last week during the SVID board's monthly meeting. At that meeting, Ott's last since April 20 is his final day, SVID board chair Doug Simpson praised Ott's work with the district. "It's been a pleasure," Simpson said. At the meeting Trull also expressed appreciation for Ott's ability to "think outside the box" during the district's many construction projects.
Ott had nothing but praise for SVID's board during comment at last week's meeting. "This has been the best board I have ever worked for," he said. "I'm not just saying that because I want a job, because I'm giving up a job," Ott smiled.
Because Ott is "giving up a job" to retire, the transition means promotions for several SVID employees.
Dave Bos, an operations supervisor, will replace Ott as an assistant manager.
Bos, in turn, will be replaced by Brian Moore, currently a drainage supervisor. Moore's replacement will be Bob Sarmiento, currently a leadman in the drainage division.
SVID's future is in good shape with the promotions, says Ott, whose retirement plans include golf and travel.
"It makes me feel good that things are left in such good hands," he said during the board meeting. "That's a good group of guys."