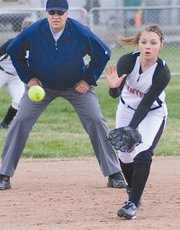 Eastmont prevailed in last Friday's doubleheader against the Sunnyside Lady Grizzly fastpitch softball team.
Eastmont earned a 13-3 victory in the opener and blanked the Lady Grizzlies in the nightcap, 15-0.
Connecting with the ball in the first game for Sunnyside were Sharon Duran, Dalia Romo, Hannah Fernandez and Rorinda Ramos.
Sunnyside had two runs in the fourth inning and one in the final stanza, but it wasn't enough to overcome the deficit created by the Wildcat runners.
Eastmont opened the first game with four runs. Another runner tagged home plate in the second inning. Another two runners made it to home in the fourth inning. One run was made in the fifth inning, three runs in the sixth and another two runs were in the final inning.
"Our team played really well...we battled for seven innings in spite of missing four players," said Sunnyside Coach Ralph Mendoza.
"We didn't do too bad," he said.
Filling in on the mound was Monique Gil, who typically plays at second base. Dalia Romo, a utility player, filled in behind the plate.
In the nightcap, the Wildcat bats were hot in the third inning and seven runs were scored. Eastmont also secured a run in the opening inning, three runs in the second inning and four runs in the fifth inning.
Sunnyside's Erica Romero and Gil were 1-for-2 each batting.
Sunnyside remains winless on the season. The Lady Grizzlies will this coming Friday travel to Hanford.