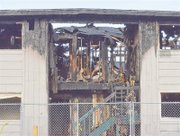 Sunnyside firefighters were dispatched to an apartment fire report at 5:29 a.m. yesterday morning. Chief Aaron Markham and the first Sunnyside fire unit were on scene within three minutes of receiving the call early Easter morning.
The first arriving firemen found the second story unit located in the 900 block of East Harrison Avenue fully involved in fire. The fire quickly spread to other adjoining units in the same building and threatened another eight-unit apartment building to the west.
The spread of the fire was aided by strong winds that were blowing from the northwest. The fire completely destroyed one eight-unit building and damaged two units in the other eight-unit building on the west side.
Including Sunnyside firemen, there were a total of 25 firefighters on scene from Grandview, Prosser, Granger and Yakima County Fire District #5. A ladder truck from Grandview helped firefighters battle the blaze from an aerial position.
It took approximately one hour to get the fire under control and several hours to complete the overhaul of hidden fires.
The fire is still under investigation, however, preliminary information indicates the cause of the fire may have been from barbeque briquettes that were not completely extinguished and stored too close to combustible materials.
Markham said the approximate property loss has not yet been estimated, but the eight apartment units in the primary building are a complete loss.
"Two other units in the adjacent building are repairable and six other units in that structure had some smoke and water damage, as well as some fire damage because fire got under the floor," he said.
The American Red Cross set up a temporary shelter for the apartment complex's 49 residents displaced by the fire, 15 of whom are children. The shelter was located at the Chief Kamiakin Elementary School gymnasium on East Lincoln Avenue.