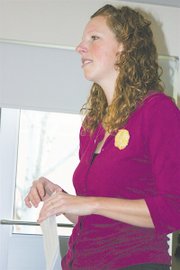 After missing home and her family for several years, Laura Eisenga returned home and to her alma mater, Sunnyside Christian High School.
As a 1998 graduate, Eisenga has returned as the school's development director. She's been working in that position for more than two years. She says she missed home, her family and her school.
As a development director, Eisenga told Daybreak Rotarians this past Wednesday morning that she works closely with prospective students and their families, answering questions and hosting tours.
She says her most memorable tour consisted of a small child asking, "Is this the Jesus school?"
"I was able to say yes," she added, and for Eisenga that's what matters most.
"I am working for something I believe in," she added.
But for some prospective students and parents, she says the biggest misconception about the school is the cost.
"I explain to families about our financial aid opportunities," she added. "It is truly affordable for all that want to attend."
Eisenga also works with current students and their families to increase retention rates. Additionally, she also works with the school's community organizing pastors' breakfasts and coming soon, a grandparent's day program.
Eisenga says she's also been working with the school to bring online courses to students. The courses will begin on a trial basis this coming fall semester, according to Eisenga.
"Hopefully they will be in full force in the spring," she added.
In addition to her daily duties, Eisenga works with students to give back to the community.
Students sing at local retirement communities, in addition to playing games with the area's elderly. Sunnyside Christian school students also raise salmon each year and release them in to the river. This past winter Sunnyside Christian School students also participated in a Coats for Kids drive.
But most of all, Eisenga says she feels at home working for a school in which she can get behind the vision of, "providing a Christ-centered, Bible-based, quality education for distinctly Christian living."
For more information on the school's activities, visit www.sunnysidechristianschool.org.