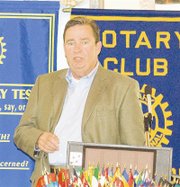 YAKIMA - Voters in Yakima County this fall will be asked to choose between roads and the jail.
That's according to a one-tenth of 1 percent sales tax increase Yakima County commissioners want the public to consider on the August primary ballot.
Yesterday, Tuesday, commissioners approved putting the tax on the ballot which would be designated for operations and security improvements at the county jail.
This past Monday, County Commissioner Rand Elliott gave the Sunnyside Noon Rotary Club a quick overview of the history of jails in Yakima County and why upgrades are needed on the downtown jail.
Elliott explained that Yakima County has rented jail space to counties on the west side of the mountains for several years, making a profit off the contracts, which resulted in less money from the general fund going to the department of corrections.
Those contracts ran out, however, and a new jail was built in Renton that meant Yakima did not regain the same number of rentals.
"When I took office, $8 million of the general fund went to the department of corrections," said Elliott. "Now it's $11 million."
The jail has pared down expenses as far as possible, but upgrades are desperately needed to keep inmates safe and secure. He said upgrades may save taxpayers money in the long run as the county won't have to pay for emergency medical help for some inmates.
Showing images of inmates who had been beaten by other inmates, Elliott said the population of the jails has changed.
"We used to have only a few gang members," he said. "Now we have enough that keeping them separate is a problem. Many of the gangs have 'fight on sight' orders, and will attack a member of another gang in any circumstance."
The jail also needs regular safety precautions such as sprinkler system overhauls.
Elliott also showed several images of walls with holes in them.
"Inmates try to escape," he said. "We have that in common with every other jail. People just don't want to stay in them."
He also mentioned the staffing problem, with emphasis on how upgrades might be able to help mitigate problems.
"I often use the example of how it takes three guards to bring some inmates down from the fourth floor (the violent offenders wing)," Elliott said. "With handcuff ports in the doors, that number could be reduced."
If voters turn down the sales tax increase then money for the jail improvements will be taken from the county's road funds.
"One way or another," Elliott said, "we have to make these changes."