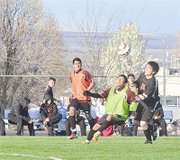 GRANDVIEW - It may have been the Ephrata Tigers who drew first blood during yesterday's CWAC soccer match against Grandview, but the Greyhounds prevailed 4-1 after overcoming the early deficit.
Grandview Coach Anne Holden said, "Ephrata did not play like an o-and-two team," indicating her Greyhounds weren't about to roll over for the visitors.
She said the Tigers challenged the Greyhounds throughout the first half with an offside trap, pressure in the middle and contests for every 50/50 ball.
Ephrata's Nick Wall was the first to score yesterday. Teammate Matt Helsey got the ball on a free kick and booted it to Wall for the goal at the 7-minute mark.
That one goal, said Holden, was the only shot on target for Ephrata in the opening half.
The two teams battled back-and-forth, although Grandview was on its toes for much of the next 26 minutes. The 'Hounds attempted to score eight times in the first half.
The Greyhounds were finally able to equalize the match in the 33rd minute. That's when Grandview freshman Victor Valencia spotted an opportunity to get the ball past the crossbars and took a shot. The goal was good to tie the match 1-1.
Holden said she substituted players throughout the opening half "...to show them what was happening on the field."
She said, "The Tigers really put us under the hammer...it was a good test of our mental fortitude."
The teams remained tied going into halftime.
Just five minutes into the closing half, Grandview's Rodrigo Corona got the ball to freshman Samuel Cuevas. The underclassman capitalized on the opportunity to score, giving the 'Hounds a 2-1 lead.
"Samuel's goal was stunning," said Holden.
It was Ricardo Serrato of Grandview who scored the final two goals of the match. He scored in the 49th and 64th minutes off assists by Alex Guzman and Rodolfo Montes, respectively.
"We also had two offside goals that were disallowed," Holden said.
She attributed the win to the Greyhounds' ability to adjust to the Tigers' strategy.
"We were able to dictate the second half of the game," said the coach.
Grandview (3-1, 4-6) will tomorrow (Saturday) compete against the Bulldogs in Ellensburg.