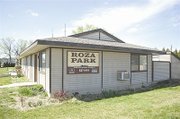 The city of Sunnyside issued permits for 24 new building or construction related projects in March, and a third of them (8) were for installing new windows in 18 Sunnyside Housing Authority units.
All told, the eight housing authority projects have a combined valuation of $31,859 and resulted in $870 in permit fees for Sunnyside city coffers.
The housing authority improvements include replacing windows in six units at 520 Bagley Dr. and in 10 units at 1319 S. Sixth St.
Though there were new housing starts for the month of March, there were several remodels green lighted by building officials last month.
They include a partition wall built inside a building in the 300 block of East South Hill Road. That project is valued at $24,520 and netted $455 in permit fees for Sunnyside.
The single most valuable project approved in March was replacing 62 windows in a building in the 900 block of East Franklin Avenue, garnering $416 in permit fees.
There were also a few new projects given thumbs up last month that were for commercial businesses.
They include two wall signs for Nail Design at 2685 E. Lincoln Ave. #H valued at $2,300 and stucco siding for a commercial building at 120 Rohman St.
The 24 projects approved last month have a total combined value of $144,538, generating $3,563 in permit fees for the city of Sunnyside.