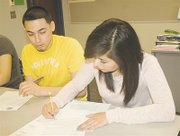 MABTON - There are programs for students with failing grades and for those who excel.
But what about average students who could improve with an extra push?
The Mabton School District found an answer to that question through a program called AVID.
Mabton High School's class of 2012 includes 10 students who have been in the program for the past several years. They are the first graduating class to benefit from the program.
Dave Mendoza is the district's coordinator for AVID (Advancement Via Individual Determination), and he says the program's appeal is that starting in middle school middle-of-the-road students are given tools to help them achieve in the classroom and in life.
While the main goal is to equip students for college - all 10 of the Mabton seniors have been accepted - Mendoza says students learn lessons about organization and self-expression that can help them in all walks of life, whether it's college or joining the workforce right out of high school.
The AVID program, which includes its own coursework, requires students to maintain extensive notes in all of their classes. That means not just writing down what is taught, but along the way reflecting and applying what is learned.
"It's college-level note taking," says Mendoza.
Another important part of the program, he notes, is that it encourage students to express themselves publicly, both in the spoken and written word. That's a key, Mendoza says, because it's a trait students will need when it comes to submitting applications for college and financial aid.
As with any program, though, the proof is in the pudding.
Based on the success of this first group of seniors to go through the program, it's understandable why the Mabton School District is avid about AVID.
"I'm more organized, more confident," says Jackie Cruz, the class of 2012's valedictorian. Cruz, who will attend Eastern Washington University on a $25,000 scholarship, says her future plans are to become a nurse practitioner.
MHS senior Isabela Ahumada was already excelling as a student, but says she was complacent.
She says she got involved with AVID because of its impact on her friends. "I could see a change, it was helping them," Ahumada says.
With AVID's help through her high school years the UW-bound Ahumada said the program "pushed me to do better."
Ahumada also noted that the preparation provided by AVID has been a key for many of the program's students to become ASB officers at Mabton High School. Ahumada is the ASB vice president and Cruz the ASB secretary.
Through AVID students have opportunities to visit several college campuses, both large and small.
Mendoza says that is an important part of the process because it helps students envision goals beyond high school. "They get a visual of what college they want to go to," he says. "It's not just a blind shopping for a college because of something you see on TV."
While the students with support from their parents are the ones responsible for succeeding in AVID, Mendoza praises the Mabton School District for its "buy-in" for the costs of running the program.
He says that also includes the cooperative effort by teachers in the district to work with AVID students in their extensive note-taking requirements.
The result of this team effort, Mendoza adds, is not only about graduation and college, but life-lessons AVID students will take with them.
"It gets kids to ask questions not only about what they're doing, but why they're doing it," he said.