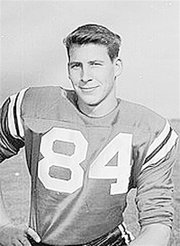 Who does Jake Kupp, NFL star for the New Orleans Saints, say impacted his life the most?
Rosey Grier? Tom
Landry? Don Meredith, Archie Manning? Roger Staubach?
Find out Thursday, April 19, at the Young Life fundraiser banquet from 7 to 9 p.m. at Neighborhood Assembly of God Church, 385 E. Allen Rd. in Sunnyside.
The banquet serves as a fundraiser for Lower Valley Young Life, which ministers to local youngsters in the area.
The featured speaker will be Kupp, a 1959 graduate of Sunnyside High School, who after playing at the University of Washington played 12 years in the NFL as an offensive lineman.
Most of his career was with the New Orleans Saints. One of the team's original expansion picks, Kupp's success there earned him a Pro Bowl berth and eventual enshrinement in the Saints' Hall of Fame.
The banquet fundraiser will be catered and there is no charge for the meal.
The goal is to raise awareness of Young Life's outreach to young people, and raise funds to help students attend summer camp.
There will be an appeal for donations during the banquet.
Reservations for the fundraising dinner are encouraged to help Young Life estimate the number of meals needed.
For more information or for reservations, call Rachel Carrera at 837-4408.
Kupp was also the featured speaker at a Lower Valley Young Life banquet in 2008.
During that event he asked those in attendance to support Young Life's efforts to reach out to young people.
Sharing his own testimony, Kupp said a pivotal moment in his life was when he "...found acceptance in Jesus Christ, not in sports."