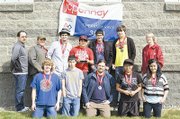 After the Regional FIRST Robotics Competition in Cheney last weekend the Sunnyside High School Robotics Engineering Club found itself in the unexpected position of needing to raise a minimum of $5,000 to get the team to the national competition in St. Louis, Missouri, April 26-28.
The team, officially designated as team 3860, did not excel in the regional competition itself, posting a 2-9 record in its 11 matches of Rebound Rumble and ranking 42nd out of 47 teams. However, the Sunnyside group was honored with the Engineering Inspiration Award, which includes an invitation to the national competition.
The award is given to "celebrate a team's outstanding efforts in advancing respect and appreciation for engineering and engineers, both within their school as well as their community."
Sunnyside High School's team was honored with the award in its second year as a club for the efforts of the students to overcome difficult conditions with few resources.
"We told them about the violence in our community," said Edgar Perez. "We talked about how the high school was a failing school only a few years ago with a 50 percent graduation rate and how the club became a safe place for us."
"We also told them we didn't have a lot of sponsors or mentors," added Eugenio Rivera.
The team was not expecting to win the competition, but hoped to learn more about robotics and have fun while at it. That part of the event went according to plan.
"It was fun," said Perez. "We met a lot of nice people."
"On the field, the groups are very competitive," said Ethan Partch. "Off the field everyone is really helpful. We learned a lot."
Club advisor Carl Walther said the students learned much more.
"Building the robot is only part of it," he said, noting the group had to set up a website (http://team3860.org) and raise money to get to the regional competition.
And now the team will be going to the national competition. Team members have already made plans to improve the robot's arm to assist in the basketball-style challenge and are building a sturdy crate for shipping the robot to St. Louis. But for many team members, the focus is on raising enough money for the travel costs.
The group has already raised about $11,000 thanks to generous donations from many local businesses and citizens and two large donations from Platt Electric and JCPenney. To get all 14 students and five mentors to the competition, more money needs to be raised.
"We had to raise our first estimate of about $800 per person to around $1,100 per person when airfares went up," said Walther. "But we hope to get the entire team to the competition."
Donations are being collected through Walther at (509) 840-3008 or carl.walther@sunnyside.wednet.edu.