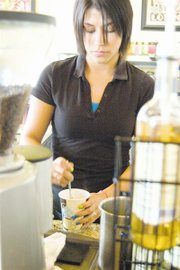 While taking some much needed time away from university, Grandview native Brittnee Sanchez is preparing for her career in a creative way.
She's a waitress.
The aspiring sports journalist says working as a waitress at Green Olive Café in Sunnyside is a good lesson in customer service that just might better prepare her for the future while working with a variety of people.
Sanchez began working at Green Olive Café last September after she decided to take a one-year hiatus from Boise State University.
"I just needed the time off," she said of her reasoning for leaving school.
She does, however, plan to return with a deeper focus on school this fall as she prepares to graduate in the spring of 2013.
As a long-time athlete herself, Sanchez says she had originally struggled with what to major her studies in while away at college.
"I enjoy writing," she added. "And sports is what got me through college."
Sanchez was given the opportunity to take her track and field skills to the collegiate level. She says she's always been involved with sports, "I've done so many different sports."
So when choosing her major study subject, her end goal is to combine two of her passions and become a sports journalist.
While continuing to enjoy her time off from school, Sanchez says she loves her job as a waitress. Her daily duties consist of taking orders, preparing coffee and busing tables.
"The people I work with is my favorite part about this job," she said.
After the summer season has come and gone, Sanchez will hang up her waitress apron and pack her undergraduate bags to finish the last year of college.