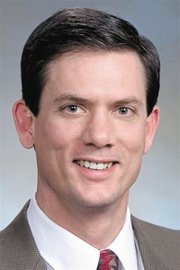 Rep. Mark Miloscia would like to be the new Washington State Auditor and believes his years of experience in dealing with government waste makes him the ideal candidate for the job.
A veteran of the United State Air Force, Miloscia helped uncover ridiculous waste, including $300 light bulbs. Miloscia spend 14 years in the Air Force, the last five of it in management and auditing.
"I became an expert in auditing," said Miloscia on a quick stopover visit in Sunnyside last Friday. After leaving the Air Force, he continued to work at reducing waste and improving performance, a trend he continued when elected to the 30th Legislative District in 1999.
During his seven terms as a state representative, Miloscia has sponsored more than 50 bills aimed at making government more accountable and improving performance. He also served as Chair of the House Audit and Review Committee.
Now he would like to replace retiring state auditor Brian Sonntag. Miloscia already has a plan ready to put into action.
"Every agency would be graded on how they are doing," he said. "I expect them to do poorly at first, but with a clear message and consistent goals, they will improve."
He plans to develop a scorecard for each agency, so the people in the agencies always know where they stand and what needs to be improved.
Miloscia believes voters want to see a government that's making progress.
"(The public) wants to see effort," he said. "They will accept mistakes as long as those mistakes are being addressed and fixed."
Miloscia said he's been a leader in the legislature in making government more effective.
"The voters want what I offer," he said. "The state auditor's office is committed to restoring the public's trust in government."
Miloscia argues that his 25 years of experience in auditing, which include government, colleges, hospitals, non-profits and businesses, will help him at the state level.
"My goal is to make sure government can be effective," he said.