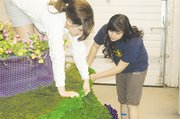 The Miss Sunnyside Court is hard at work on this summer's float as they prepare for its unveiling at the sixth annual torchlight parade on Thursday, April 19, starting at 6 p.m.
The Torchlight Float Unveiling Parade will start at Sunnyside High School this year, run down Edison Avenue and end at Central Park. It will feature the new float and include appearances by the Princess Prep girls, riding in the Sunnyside's Promise wagon, Mr. SHS Wilson Tramel and the Sunnyside High School band.
The parade is the first chance for locals to see the float before it, and the Miss Sunnyside Court, starts on a 17-parade circuit around the state. The float will also be at Sunnyside's Sunshine Days, but that will be toward the end of the season.
Every year, members of the court and their parents work on a new float. The girls make the decisions and work out the details, getting help from parents and other mentors. Each court uses the float until Sunshine Days, when the float is turned over to the new court for the rest of the season.
"I always have to make sure the girls know what they are getting into," said court director Teri Alvarez-Ziegler. "It's a big job for both the girls and their parents."
Miss Sunnyside Abigail Ramos agreed, but found the efforts worth it.
"We've done so much now," she said. "We're ready for anything."