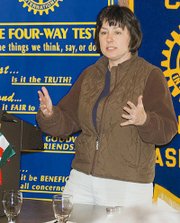 For Tracy Kaufman of Sunnyside, hunting for corpses is something of a hobby.
Kaufman trains cadaver dogs, animals that use a keen sense of smell and strong hunting instincts to find lost bodies, whether in wild brush or at the site of a house fire.
In a presentation to Sunnyside's Noon Rotary Club on Monday, Kaufman explained how dogs are trained to find bodies by first holding up a tiny vial, then passing it around to the group.
"Don't break it," she warned. "It smells really nasty."
The vial contained a chemical scent, and the label on the vial said "Corpse." Taking out several jars, Kaufman explained that she put some of the scent in the jars, which were then placed around the house. As the puppy reacts to the scent and investigates, Kaufman rewards it with a clicker and a snack.
"The clicker is a bridge," she explained. "When the dog hears the click, he knows he'll get a snack."
After the puppy knows to react to the scent, the jars first go outside, then into different environments outside.
"The dog has to be able to find the scent in all kinds of situations," she said. "Surrounded by noise or in a quiet area."
Kaufman spends a lot of time training the dog and her mantra is to "keep it simple, stupid."
"You just train your dog to do exactly what you want it to do," she said. Kaufman also emphasized repeatedly that dogs are just dogs. A well-trained dog will be predictable and will function as a true partner.
Kaufman's own partner is Murphy, a field springer, which is a forgiving dog with a lot of energy. She said she likes the breed because it is very forgiving.
"On a training exercise a jackrabbit jumped into our path," she said. "I raged at him to come back, and called him all kinds of names as I followed him. But it turned out he went right to the target. He wasn't chasing the rabbit."
She put her fingers close together, "I felt about this small for yelling at him," she said.
She said she isn't paid for the work. Everything is out-of-pocket, including the conferences and seminars that keep her up-to-date.
She said her least favorite part of the work is keeping track of what the dog does. Because her work may be crucial in putting together a case, she has to document every time she takes her dog out.
"There must be a chain of evidence," she said. "But I hate paperwork."
Among other jobs, Murphy and Kaufman found the bodies after the fire in Zillah that killed three state troopers several years ago.
"I'm a resource," she said. "I do what they tell me to do and then I go. I don't answer questions from the media, I don't hang around and overhear sensitive information."
Her dog isn't trained to find living people. She's only called out when there is a death. She calls herself the last resort.
"If you are missing a loved one, you don't want to see me," she said.