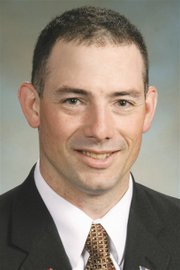 Rep. Dave Taylor (R-Moxee) received the 2011 Cornerstone Award from the Association of Washington Businesses for his efforts to protect jobs, spur local economic development and create an employer-friendly environment in Washington state.
Gary Chandler, the association's vice president of government affairs, presented the award to Taylor earlier this month in Olympia.
"Last year was an important legislative year for Washington's economy," said Chandler. "We appreciate Representative Taylor's leadership on these issues and his commitment to creating the right conditions for employers and free enterprise to succeed in Washington state."
The Cornerstone Awards are presented annually to Washington state legislators who have an 80 percent or better voting record with the association. The group publishes its voting record after each legislative session as a supplement to its magazine, Washington Business.
The voting record includes the member's percentage of association-supported votes in 2011 and 2010, as well as their lifetime average and their score as calculated by the Washington State Labor Council.
"It's an honor to be recognized by the AWB," said Taylor. "They are an organization that works very hard to help foster an atmosphere that is friendly and accommodating to employers. As elected officials, we need to do all we can at the state and local level to help protect and create jobs."