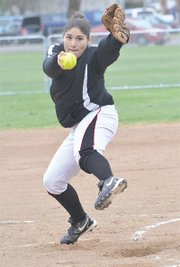 Yesterday's twin losses to Pasco were due to costly errors, according to Sunnyside High School Coach Ralph Mendoza.
The Lady Grizzlies fastpitch softball team lost the opening game 19-6.
Pasco scored nine runs in the opening inning of the first game. During that inning there was an error when the Bulldogs had two runners on base.
Sunnyside, however, was able to score four runs in the first inning.
Pasco scored another two runs in the second inning, and in the fourth inning eight runners were able to round the plate.
Mendoza said the eight runs were helped by additional errors.
"The errors were costly...they were made with two outs in both the first and the fourth inning, but there were runners on base," said Mendoza.
The Lady Grizzlies were able to score two runs in the fourth inning, but it wasn't enough to overcome the deficit.
Pitching for Sunnyside was Monique Gil. Teammate Dalia Romo was behind the plate.
Shawna Santini had the hottest bat for Sunnyside. She was 2-for-2 and both hits drove in runs.
In the opener, Pasco scored 19 runs on 10 hits. The Bulldogs didn't commit any errors.
Sunnyside scored six runs on six hits and committed three errors.
So, too, went the nightcap, which went Pasco's way, 16-2.
The Bulldogs scored just one run in the first inning and Sunnyside was able to take a 2-1 lead.
However, in the second and third innings, Pasco scored seven and eight runs, respectively.
"The errors came at the wrong time," said Mendoza, stating Sunnyside committed a total of five errors in the second game.
Lady Grizzly hurler Amber Cornwell started the third inning by striking out two of the first three hitters she faced, but three errors soon followed, allowing the Bulldogs to score six runs.
Sunnyside's Johanna Chumley was the leading batter during the nightcap, connecting with the ball two times.
Sunnyside (0-6, 0-12) will tomorrow (Thursday) travel to Kamiakin.