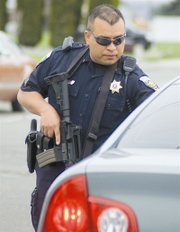 Just after noon yesterday Sunnyside police were involved in a manhunt after an ex-convict allegedly pulled a gun on an officer.
The suspect, Marcus Anthony Torres, 27, is still at large following the manhunt which was conducted with assistance from officers from several local agencies.
The hunt began after an officer attempted a traffic stop for a vehicle with an equipment violation. The stop was made in the 300 block of South 11th Street, say officials.
Deputy Police Chief Phil Schenck said the vehicle was occupied by several individuals.
He said Torres exited the vehicle and pointed a gun at the officer on scene. The officer responded with gunfire and the suspect fled the scene on foot.
Torres, said Schenck, is known by police because he is an ex-convict with firearms violations in his criminal record.
Because he fled the scene, the Sunnyside Police Department asked the Sunnyside School District and Sunnyside Christian Schools to place their schools on lockdown.
There are four schools near the scene of the incident, Sierra Vista Middle School, Sun Valley Elementary School, Sunnyside Christian High School and Sunnyside Christian Elementary.
Students at Sierra Vista Middle School and Sun Valley Elementary School, said Sunnyside School District spokesman Curtis Campbell, were on lockdown longer than the other six schools in the district.
He said those who ride the bus were released at the final bell of the day.
"The buses were rerouted around the cordoned off area that police were searching," said Campbell.
Parents of students who normally walk home were contacted, he said. The school district asked them to pick their students up from school.
Sunnyside Christian Schools Spokesman Del Dykstra said the Christian schools handled release of students in the same manner.
Campbell said there was one issue at one of the schools during the lockdown. A parent was able to access one of the schools, Sun Valley Elementary School, due to a mechanical malfunction on one of the doors.
"The administrators were aware of issues with the door. There is a pin that must be manually set, it is believed the pin was set and may have somehow been dislodged," he said.
Campbell said the school district had a work order for the door already in place, but after learning of the incident the district is working harder to ensure the repair is made.
Schenck said the manhunt continued late into the evening. No officers were injured and information regarding whether or not the suspect was injured is not being released.
Torres is still being sought, and anyone with information regarding his whereabouts is urged to call the Sunnyside Police Department at 836-6200.
Washington State Patrol has been asked to investigate the incident.