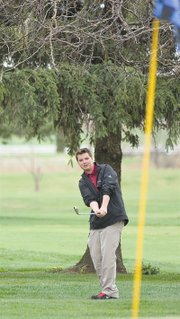 Finishing last in the team scoring at a four-school match yesterday afternoon, you wouldn't figure the Grandview High School boys golf team has much going for it.
WRONG!
The Greyhound linksters, behind career best rounds from Justin Murbach, Matt Daily and Anthony Kollmar, tallied an aggregate 419, cutting more than 30 strokes off their previous best team score this season.
Daily led the Greyhound charge at Black Rock Creek Golf Course Tuesday, shooting 48-51 on the front and back nines, respectively.
"His round of 99 was the first time ever he's been under 100," said Grandview Coach Dave Uggetti. "It's the first round under 100 for any of our golfers this year."
Murbach and Kollmar also carded their best rounds ever, each posting a 103. Murback had a 53 on the front side, a 50 after the clubhouse turn. Kollmar went 50-53 for his two nines.
Rounding out the Grandview team scorecard was Cameron Stinnett's 114 (54-60).
"I was pretty pleased with how the guys came through yesterday," said Uggetti.
"With a couple other pretty decent golfers returning to the team next week, it's looking like we'll be able to better compete against some of the teams in our league," he said.
Othello, getting rounds of 76 and 79 from Trevor Salisbury and Colton Hall, respectively, posted the low team score of 340 yesterday.
Prosser, behind Devin Bender's round of 78, was second with a team score of 366. Wapato was third with a 398.