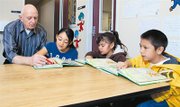 There's a sense of satisfaction that comes from helping others through volunteer work.
That's according to Sherman Schafer, who volunteers at Sunnyside's Pioneer Elementary School.
He and his wife, Wanda, have volunteered in Sunnyside schools for nearly two decades.
Mrs. Schafer, however, volunteered at Chief Kamiakin Elementary School until recently. Mr. Schafer said health issues has prevented her from continuing to help students with crafts as she has done for so many years.
"We like to volunteer. We like the teacher and the students we work with," said Mr. Schafer.
He said Mrs. Schafer enjoyed helping students learn crafts, particularly needlepoint crafts for different holidays.
"She often purchased the supplies herself," said Mr. Schafer.
He said Mrs. Schafer fit volunteering in the schools into her schedule when she wasn't busy with home projects.
The couple hasn't kept their time to volunteering in the schools, however. They volunteered with 4-H clubs for several years. Mr. Schafer has also volunteered his time delivering meals to seniors and maintaining the Outlook Cemetery.
He said the couple got involved with the schools after a neighbor, Mrs. Plesha, suggested it.
Mr. Schafer said he has also witnessed the enjoyment and sense of fulfillment other volunteers like an 85-year-old woman, who volunteers in the Pioneer Elementary School library, get from spending time with the students.
The benefit isn't just for the volunteers, according to Mr. Schafer. He said students whom the couple has helped over the years will recognize one of them when they are out and about town. He used an example of a recent trip to McDonald's.
"A grown student whom my wife helped recognized her," he said.
Mr. Schafer said he likes to take a more reserved role in the schools. He reads with students and helps teachers with various projects.
Mrs. Schafer has lived in the Sunnyside area all her life and Mr. Schafer moved to the area in the 1940s. The couple married and purchased a farm on the outskirts of Outlook in 1945.
They raised two children, who attended Sunnyside schools, and when the Schafers retired from farming they moved into town.
"We needed something to keep busy," said Mr. Schafer.
He said being advocates of the community, they began seeking opportunities to serve others.
"Volunteering brings pleasure to our lives," said Mr. Schafer.