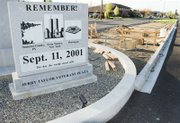 Membership numbers are down at Sunnyside Post 73 of the American, admits Post Commander Greg Schlieve.
He said there are many local veterans who could join, but haven't.
"The American Legion is a veterans organization. Members are those who served during a time of war, but not necessarily in the theater," said Schlieve.
Despite the less than full ranks, the local post, he said, began a 10-year project in 2008 to honor veterans. The Jerry Taylor Veterans Plaza renovation was spearheaded by the post and the results are beginning to take shape.
"The plaza is the main emphasis in our community as our current project," said Schlieve.
He said the goal is to complete the largest veterans memorial in the Northwest.
"For that reason, it will take a lot of personal involvement," Schlieve said.
He said members of the post work closely with the community and local businesses to make the project a reality.
"I know of no other city that has taken on such a role, honoring the veterans in this way," said Schlieve.
He said the local post has received comments from the company that makes the marble monuments. Officials with that company have complimented the post, stating "...the project is of mass proportion, larger than the Vietnam Memorial and other memorials."
Schlieve said, "It's an especially large project for the economy, so it may end up taking us a little longer than the 10 years projected."
However, he said, the post is undeterred. The members believe it's important to honor veterans in the community.
The memorial doesn't just honor veterans who have served during a time of war. It is intended to honor all military veterans, whether they were enlisted for just one day or many years.
"When vets sacrifice so much without receiving recognition, it can damage the soul," said Schlieve, stating the Jerry Taylor Veterans Plaza is a way for the community to show its appreciation through action.
In addition to working on the plaza, the Sunnyside American Legion Post sponsors youth interested in attending Evergreen Boys State, an experience that provides local high school students an opportunity to learn about government through first-hand experience.
Currently, the post is waiting to hear from students interested in attending the conference this year. Boys interested in attending can call Tim Bardell at 830-7383 for information.
"The American Legion exists to support veterans in the community," said Schlieve.
He said the organization also recognizes patriotic holidays.
With progress having been made on the Jerry Taylor Veterans Plaza, Schlieve said the local post will be hosting remembrance services on Sept. 11 and in December to recognize the events of 9-11 and Pearl Harbor Day.
"The hope is the focus of the plaza will get veterans interested in joining the ranks (of the American Legion)," said Schlieve.