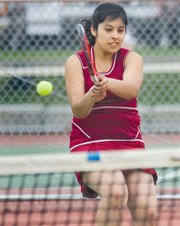 GRANDVIEW - Grandview's girls tennis team finished its interrupted, rain-soaked match from earlier this week yesterday with Ellensburg, losing 4-1.
The highlight for the Lady Greyhounds was the No. 1 doubles team of Sadie Wyatt and Victoria Chambers, who played a tough match against Bulldogs Teresa Connolly and Gese Gruber, defeating the Ellensburg pair 6-7(5-7), 7-6(7-4), 6-3.
"Sadie and Victoria played a nail-biter of a match with two of their three sets going to tie-breakers," said Grandview Coach Ronda Penwell.
In other doubles play, Grandview's No. 2 team of Karissa Carpenter and Janessa Ruiz lost in two sets, 6-2, 6-1, to Ellie Siks and Jasmine Sanchez of Ellensburg.
The Lady Greyhounds No. 3 team of Johanna Sanchez and Taylor Hamm lost their match in two sets as well, 6-3, 6-0 to Bulldogs Jennifer Jackson and Mary Lonowski.
In singles action, Grandview's No. 1 player Hannah Grow was defeated 6-0, 6-1 by Nathalie Gruber of Ellensburg. No. 2 singles for Grandview, Brianna Moreno, lost in two sets 6-0, 6-3, to Mary Kelleher.
Grandview (0-7, 0-8) will only get a little rest before the Lady Greyhounds play at Prosser on Friday, April 20.