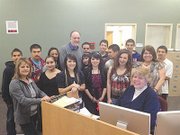 Academic press and social support might sound like a media outlet and government agency, respectively, but they are in fact at the heart of the resurgence underway at Sunnyside High School.
Dr. Chuck Salina of Gonzaga University has been the principal at SHS for the past two years on an interim basis and oversees a transformation that has more students passing their classes and more of them graduating.
He says it's taken a team effort by school staff, students and parents to focus on what he calls academic press. "It's not only mentoring high school students, but believing in every kid, that every kid can make a difference," Salina says.
The other part of the equation, he adds, is social support. "It's teachers helping students, students helping students."
That cooperative spirit is evident in mantras at the high school such as "together we will." Salina adds it's about "...building a culture of learning, building relational trust. Students feel that people are working together to help them learn."
That effort is more than feel-good words and slogans, though, as academic press and social support are the focus of new changes at the high school over the past two years.
They include a closed campus for freshmen as well as additional hours each Wednesday for student study time and staff collaboration.
The results are impressive, as more than 300 seniors graduated last year, the school's biggest graduating class. Even more encouraging for future classes, as more than 80 percent of SHS students are passing all their classes. Just two years ago the number was only 50 percent.
The work - and its results - are appreciated by the school district.
"Dr. Salina has done an outstanding job leading the turnaround effort at Sunnyside High School," says Dr. Rick Cole, Sunnyside schools superintendent. "His ability to conceptualize instructional theory and put it into practice has greatly benefitted the teaching and learning process at SHS."
While Salina may have been the architect to lead in rebuilding morale and achievement at the high school, he'll quickly tell you the pieces were - and are - already in place for students to succeed.
"The resources are here to do the work," he says. "The staff have worked their keisters off."
He says the difference now is that teachers and staff members believe in themselves and each other. "We're getting teachers more engaged and not making decisions in isolation," Salina says. "There is a can-do vision here."
Speaking of resources, by far the most visible is the ongoing two-year remodel and construction project at SHS. Salina praised staff and students at the school for excelling despite the inconveniences and obstacles with working in and around a site under construction. "No one's using it as an excuse," he says.
Salina's two-year interim stint as principal at SHS officially ends in June and Assistant Principal Ryan Maxwell will fill the position starting in July.
"Ryan's going to do well," Salina says.
Cole expressed appreciation for Salina's work and the transition to a new principal.
"He is leaving behind a strong framework for the new principal to build upon in our quest towards success for every student," Cole said of Salina.
Looking ahead, Maxwell and other principals in the Sunnyside School District will be able to continue to build on that framework with help from Salina and Gonzaga University. That's because the district will contract with Salina next year to serve as a mentor to school administrators here.
"The challenge now is to sustain the progress over a long period of time, to continue to have high expectations for everyone," Salina says.