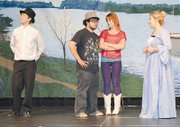 GRANDVIEW - Tonight (Friday) is opening night and the stage is set for Grandview High School drama club's production of 'Carousel.'
This will be the last production directed by Melanie Manship, who along with her students are hoping to please the crowd with the popular Rodgers and Hammerstien musical.
"The cast has been working hard...we weren't able to get our props up until Monday," said the busy director during rehearsals earlier this week.
Set in 1873, the plot follows two young female millworkers, Julie Jordan portrayed by Taylor Colson, and Carrie Pipperidge, performed by Briana Nettles-Biggs, who visit their town's carousel.
Kaelan Clute is cast as Julie's love interest turned unemployed and abusive husband, Billy Bigelow.
Carrie' love interest is Enoch Snow, portrayed by Milagro Castilleja.
Billy decides to venture out in a dangerous plan, plotted by Jigger Craigin, performed by Sawyer Schilperoort, and is shot during a failed robbery attempt. The intended victim is David Bascombe, owner of the local mill. Steven Barrientes is cast as Bascombe.
Billy is defiant in death and convinces the starkeeper, Jacob Ziegler, to give him one more day to do good for the purpose of redemption.
Other principals in the cast are Nettie Fowler (Andrea Reyes) and Louise Bigelow (Hannah Grow and Danielle Charvet).
The ensemble cast includes Catalina Pacheco as Mrs. Mullin, Josh Champion as a policeman, Abigail Ocampo as Arminy, Brendon Lynch as the captain, Harley Hurst as Enoch Snow Jr., Kassidy Hurst as Enoch's daughter and Antonio Castillo as the principal.
The townspeople, youngsters, carnies and seafaring men include Vanessa Solis, Emily Contreras, Cecelia Coronado, Analilia Grandos, Allie Harrington, Emma Perez, Rosalinda Barrientes-Reyes, Luis Barajas and Caitlin McGhan.
Serving as technical crew members are Kateland Hurst, Kaylee Greene, David Swails, Martin Torres, Kayla Lucas, Wendy Martinez and Zulley Orozco.
The musical will be performed tonight and tomorrow (Saturday), and next Friday and Saturday, April 27-28, at Grandview Middle School. The curtain rises at 7 p.m. each night.