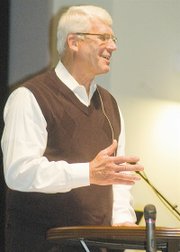 Sunnyside can again be a place where kids are prioritized and feel loved....and Lower Valley Young Life can help make that a reality.
That's according to Sunnyside native Jake Kupp, who was the featured speaker at the Lower Valley Young Life fundraising banquet last night, Thursday.
Kupp recalled growing up in 1950s Sunnyside, a place he says where he felt safe and free and could dream.
The former UW Husky and NFL football star moved back to the Yakima Valley after retiring from the sport. He initially hoped to return to the Grizzly gridiron as head coach, but when he was turned down for the post he went into business. In the big picture, Kupp says it was probably for the best.
The most important thing, he says, was to come back home to his roots.
Kupp says one of the pivotal points of his childhood years was attending Sunday School class at Sunnyside Presbyterian Church, where he learned the stories of Jonah and David and Goliath.
He says it's a different world for youth today.
"Evil has invaded our land," he said. "If I grew up today in Sunnyside I wonder in this environment how I would have turned out. It would have been very different."
He says a sense of hope for youth can be reclaimed in today's Sunnyside.
"More than ever do we need a support system for kids," Kupp said.
He praised efforts by Young Life, as well as Transformation Sunnyside and Sunnyside's Promise at putting a high priority on youth.
Kupp hearkened back to Sunnyside's founding more than 100 years ago as a "holy city." He quoted from a flyer back in the day that touted Sunnyside as a place having "good schools, good churches, no blizzards."
Kupp continued, "What if we had a flyer come out today, encouraging people to come to a land where our kids are prioritized, no gangs, no violence? Is that possible? I think the answer is yes."
He says the answer is yes because God has children in Sunnyside, because of God's power over Satan through the cross and resurrection and because God is calling people to join His work.
"He (God) says to all of Sunnyside, I've got a job to do and I'm going to do it through you," Kupp said.