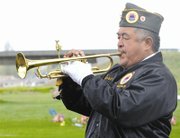 GRANDVIEW - A special program to honor Lower Yakima Valley veterans was yesterday held at the Grandview Cemetery.
Sunnyside VFW Post Commander Bill Ingram said the program was held to ensure all military veterans who have died receive full military honors.
He said the National Guard keeps records of those who have died and received full military honors. Because some of those records were not updated, the local VFW posts receive a list on a periodic basis that names men and women who are entitled to military honors.
"This is to honor those who didn't receive military honors at the time of their funeral services," Ingram said.
The service included a recitation of the names most recently provided to the local VFW posts in the Lower Valley.
Ingram and Chaplain Joe Gordon recited the names and a bell was wrung for each name listed.
The names called out yesterday include Donald H. Holke, Robert F. Diddens, Lyle J. Dickie, Doran A. Knight, Ernest Charles James, Fred Wilson, John Stribling Ahlquist, William A. Neal, Thorby Cecil Sowers, Frank W. Cook, Joseph Harvey Young, Walter Stephen Johnson, Carroll Leroy Walker, Roland Earnest Beasley, Donald D. Miller, Allison Edward Browning, Ruth C. Bower and Manuel Rinley Deeds.
Gordon provided a blessing and benediction, and a 21-gun salute followed.
Also, Ingram read a poem titled "Bury Me With Soldiers," and the flag was folded in honor of the deceased veterans.