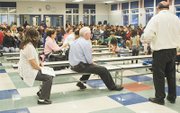 GRANDVIEW - An array of opinions were voiced at last night's parent meeting regarding a proposed dress code policy enforcing uniforms at Grandview Middle School.
The proposed policy went before the Grandview School Board last month, and since then parents have been taking opportunities to voice their support and opposition to the policy.
Since the initial announcement of the proposed policy, school administrators have conducted several surveys seeking out parent opinions. Surveys were distributed during the district's parent-teacher conferences showing nearly 74 percent in support at the fifth grade level and about 76 percent at the middle school level.
After spring break, administrators conducted a phone survey, calling more than 1,000 residences of students in the fifth, sixth, seventh and eighth grades.
Of the calls, 840 actually answered the phone and 437 households chose to participate in the survey. Two options were given, yes or no. Of those participating in the survey, 75 percent showed support of the policy while nearly 25 percent responded in opposition.
However, parents at last night's meeting voiced concerns of students' individual expression and costs. Others say the policy would just be masking the 'real' issues at the school.
Parents in support of the policy said the dress code could help deter bullies and allow students additional focus on scholastics.
After last night's meeting Grandview Schools Superintendent Kevin Chase said school board directors will determine whether or not there is enough support for the policy to move forward with the drafting of a new dress code policy. According to Chase, if they determine there is indeed enough support, administrators will begin involving the community in drafting a policy.
"We're going to start with a blank sheet of paper," Chase said. "(The policy) will be crafted by the people who want to be a part."
Chase said if directors decide to move forward, a group of professionals will assemble to begin gathering and compiling parents' concerns and wishes on the policy.
"Expect ideas to be put on paper and on the wall," Chase added.
Moreover, Chase says the district is interested in a policy drafting procedure that is transparent, public, inclusive and open minded with the ability to use several input methods and to bring to the surface all issues parents are concerned with.
The Grandview School Board will decide at next Monday's regular meeting whether to move forward or not. Chase invited parents to attend the meeting, scheduled for 6:30 p.m., Monday, April 23, in the Grandview High School library.