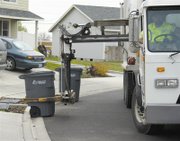 It no longer takes two people to empty garbage cans around Sunnyside.
The new truck and new garbage carts have been deployed, and the first week of collection with the new system is nearly over. For the first week, the trucks were manned with two people as before. But next week, the drivers will be going solo.
The new carts come with some basic instructions to make the job easier for the drivers of the trucks.
The bin should be rolled out to the curb or alley by 6 a.m. on pick-up day and should not be left out other days. The arrow on the lid of the cart must face toward the street, allowing the arm of the garbage truck to lift and empty it automatically.
Carts should be close to the street, as the arms of the truck have a limited reach. The bin should not have other objects, like a mailbox, next to it. The clamp on the truck's arm needs to be able to close cleanly around the cart to lift it. People should make sure parked cars are not blocking the truck's access to the garbage bin.
People who have extra garbage need to fill the cart first then place any additional cans near the cart. The extra cans cannot weigh more than 65 pounds.
The bins are designed for normal home and yard waste. No toxic or flammable material is allowed in the carts.