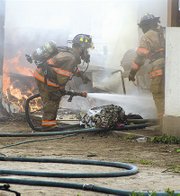 Shortly after noon last Friday, Sunnyside firefighters were alerted to a house on fire in the 100 block of Parkland Drive.
With a cloud of smoke visible from the fire station, more than 15 Sunnyside and Grandview firemen rushed to the scene to extinguish the blaze. Sunnyside police officers began blocking off the roadway and interviewing possible witnesses. A few minutes after arrival, with the help of nearly 100 onlookers and the home's residents, firemen were able to confirm there were no occupants inside the flaming home.
Officials say the fire was started by an 8-year-old playing with a lighter in a shed on the property. Pizza boxes were lit on fire, causing a total loss of the trailer home and an outbuilding, according to Deputy Fire Chief Lloyd Hazzard.
During the fight, one firefighter was injured with a sprained ankle but no citizens were injured.
The fire was extinguished nearly 30 minutes after the initial report and firemen cleared the scene at about 2 p.m. on Friday.
Firefighters have also responded to 15 calls for aid since last Friday. Of the calls for aid, 12 people were transported to Sunnyside Community Hospital. Of the patients at the hospital, three were transferred to other area facilities.
In addition, firemen investigated two automatic alarms, an illegal burn report and a reported smoke smell. Firemen reported the smoke smell was an electrical problem in the 800 block of East Edison Avenue and no damage was done.