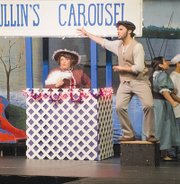 GRANDVIEW - Young thespians at Grandview High School were able to bring its audience to an emotional state that's quite uncommon at a high school level.
Carousel, by Rogers and Hammerstein, was performed by Grandview drama students this past Friday and Saturday.
Opening night was well attended, and rightly so.
Stealing the spotlight was Grandview's Taylor Colson playing Julie Jordan.
Colson embodied her character with such precision. When her newlywed husband kills himself, Colson admits she'd never told her late husband she loved him. In a scene before he dies, Colson ushers a silence across the middle school gymnasium, leaving audience members feeling somber.
Equally talented was her husband Billy Bigelow, played by Kaelan Clute.
Clute and Colson stole the show with their acting and singing abilities in this high school musical production.
Perhaps the thorn for Grandview was the sound equipment. Working on a budget, using multiple wireless microphones and one receiving speaker is the thorn that keeps on giving. If an audience member can get past a few speaker feedback issues and the occasional hard-to-hear line, the talent in this young group is outstanding.
To name a few outstanding actors, Sawyer Schilperoort, Catalina Pacheco and Briana Nettles-Biggs brought their characters to life.
Schilperoort, who plays Jigger Craigin, a villain in the show, makes audience members cringe to see what he's up to next. Pacheco's character, Mrs. Mullin, owns the carousel. She also makes her character seem real and real mean. Her character's eerie fascination with Mr. Bigelow was greatly displayed.
Biggs' character, Carrie Pipperidge, plays a young girl about to be married. She's a good girl, with a naive sense of life. Biggs nails this character on the head with a confident stage presence to boot.
Adding to the reality of the production, the set design takes its audience to water shores for an entertaining evening of humor, sadness and a content resolution.